Telemedicine Kits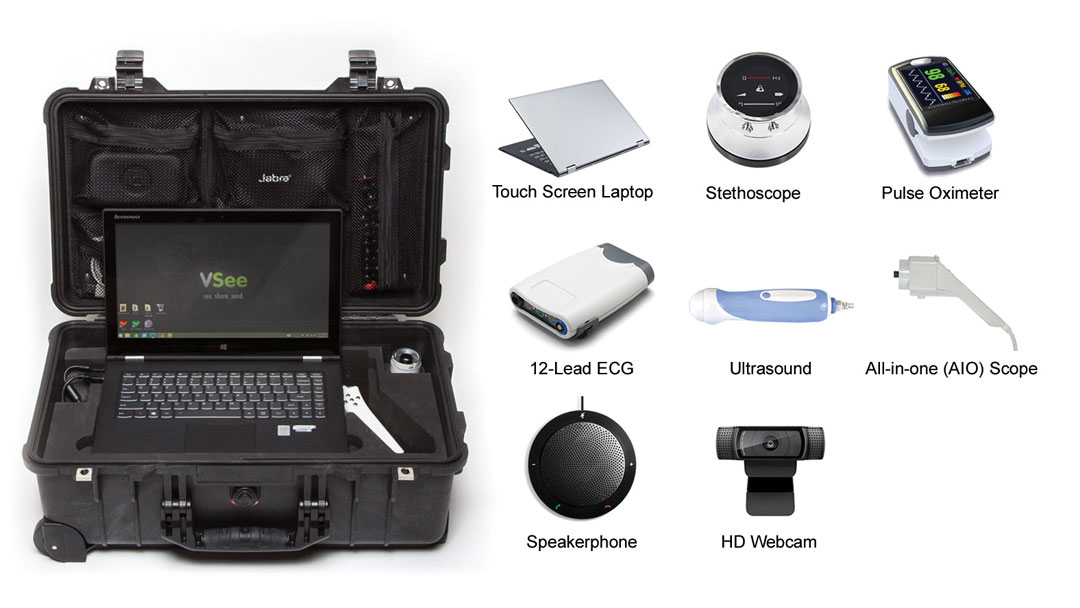 Telemedicine Kit
Choose the easiest telemedicine kit for remote consultations. This telemedicine solution is found on board Shell's oil platforms off the coast of Nigeria and Alaska. Kits include :
Home Care Kit
This ultralight home care kit uses iPhone clip-ons and is easy to carry. Weighing only 4 lbs, it is designed to work with iPhone 5 or 6 and is perfect for travelling nurses and home care patients. Kits include :
Telemedicine Cart
This flexible solution is preferred by physicians – it's easy to maneuver and doesn't require learning a new interface. Carts include:
Remote-control PTZ camera

Optional devices (e.g. digital stethoscope, all-in-one scope for real-time device streaming)
VSee Telemedicine Software
Fast document-sharing
Securely screen share and mark up lab tests, MRIs, treatment plans, or any documents together in real-time.
Peripheral device streaming
Stream USB stethoscopes, otoscopes, ultrasound images and see patients' faces at the same time from your laptop.
Far-end Camera Control
Control the patient-side camera from anywhere, so providers can zoom in on exactly what they need to see.
Supports mobile devices
Available on iPhone, iPad, Android devices including Kindle Fire. Works great over 3G networks.
Learn why customers choose VSee carts and kits